The problem with being in university for Medieval Studies in Canada is that, excepting some books or stray pieces of parchment, maybe a few artifacts on display at museums, it doesn't exist in this country, because the history I'm learning didn't happen on this continent. Learning about things at a distance creates a sort of wistful image of what these places might be like in person. I saw the pictures of Rome and Ravenna and they looked breathtaking, but there was also a part of me that wondered if perhaps it was just photo magic; beautiful framing that made things look prettier than they actually were.
It wasn't. In fact, photographs don't do these places justice. Because walking through the streets of Rome, you're not just seeing the cobblestones, you stepping on them. You're tripping over them, falling into the potholes created by empty spaces, risking your neck if you try to wear stiletto heels. You can feel them beneath your feet. And going into that church, you experience the whole building with all your senses. There's a choir singing; you can taste the candles in the air; you can smell the incense; your vision isn't restricted to the confines of a picture frame; you can touch.
It was the touching part that got me. Seeing things or hearing about things is fine, but sometimes the lighting isn't the greatest and people lie. But to walk into the Basilica of San Vitale in Ravenna, to look down and see that you're standing on a carpet of intricate squares flowing through complicated patterns, to make your way to the apse and see the stunning 6th century mosaics with the portraits of the epic Emperor Justinian and his badass ex-courtesan wife Theodora with the colours so vivid it hurts... And you move your gaze to the dome of the basilica and just
know
that at some point, that was decorated in a similar manner but has been lost and replaced by unimpressive Baroque frescoes that are peeling and going dingy grey in some areas. You turn back to the golds, blues, reds of the apse and it's just....
damn
. Then you walk up to a marble column, see it slightly pockmarked with time and age, put your hand out and touch it... and have it hit you.
This place is 1500 years old.
And you are in a building through which Ostrogoth kings and Byzantine emperors once passed.
I'm going to admit here that I was so overwhelmed I cried. And while I'm kind of embarrassed by that, seriously, look at this place!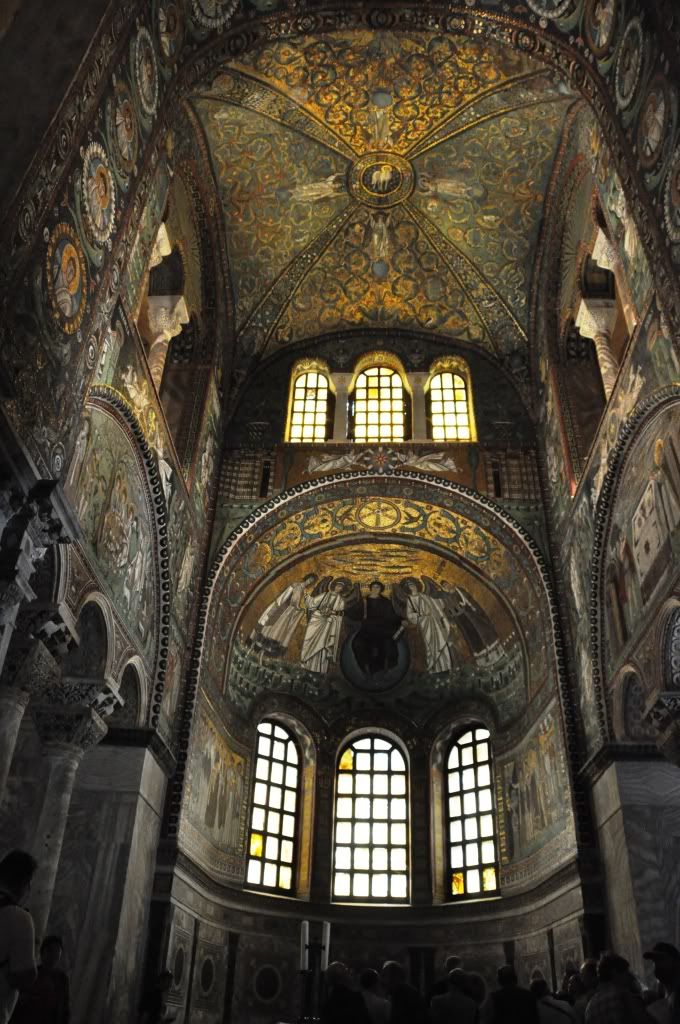 To read about these places and to learn of them in lectures is wonderful. But to experience them in person makes them real. They stop being stories. The people that inhabited them suddenly become so much easier to imagine. You can see where they did the little things; where they sat, worshiped, or ate their dinners. While in Rome we visited Ostia Antica, a two and a half thousand year old abandoned port city. The entire place is a complex of ruins. And as you're walking down a road paved millennia ago, you can follow a map that lays out the plan of the city so coherently it's as if it were made yesterday. Then you turn a corner and you come across Roman equivalents of fast food restaurants. And then you keep walking and find a row of latrines where people used to go to the washroom.
And because you and your sister have no tact, you proceed to do an incredibly inappropriate photo shoot centering around indigestion and drinking too much the night before.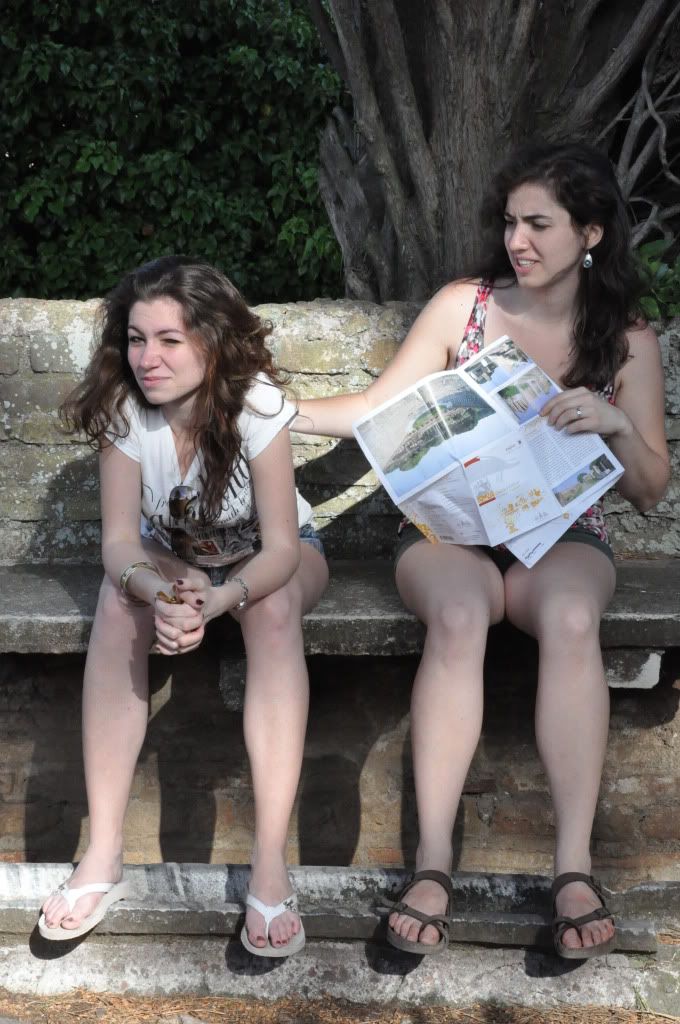 It was the most amazing experience because while I was in constant awe with everything I was seeing, the trip was so effective at demystifying the past. It was so easy to see how people back then were still people, they just lived in a different time. Yes, they had art and buildings that can be so different that they're hard to relate to, but I promise you. All you need to do is give them context. Suddenly, it's not just frescoes and architecture; it's rivals trying to outdo each other by building the more magnificent structure. The Virgin Mary in the picture is actually a portrait of the friar's illicit secret lover and the Christ Child on her lap is his son. The statue of a conqueror is less about aesthetics and more about the propaganda geared to make people think they'd be lost without him.
It's so easy to forget about people on an individual scale. To be so used to something in its completed form that it seems it was always there. But somebody built it, or painted it, or designed it, and everybody,
everybody
, has their own personal motives.
And it's those motives that I find absolutely fascinating. Because I truly believe that if you can answer the question of "Why?" your understanding of the human condition has increased exponentially.
I went to Italy in June. For those of you who know me, you'll know what a big deal it was for me. It was a family trip, three weeks long, and let me tell you....it was phenomenal.
Current Location:

Canada, Toronto

Current Mood:

thankful

Current Music:

Let the River In -- Radical Face